What?

Barclays Dubai Tennis Championships

Where?

Dubai Tennis Stadium at the Dubai Aviation Club

When?

15-21 February 2009 for the Sony Ericsson WTA Tour (Dubai Women's Tennis Open), and 23-28 February 2009 for the ATP World Tour (Dubai Men's Tennis Open). Matches usually start at about 1400 (2pm) and finish around 2100 (9pm).

How much?

Grandstand tickets AED 30-150 depending on the day, free seating meaning you can't pre-book a seat so get there early for the good seats.
Women's tennis: AED 30 (day 1), AED 40 (day 2), AED 50 (day 3), AED 50 (day 4), AED 75 (quarter finals day 5), AED 100 (semi finals day 6), AED 150 (finals day 7)
Men's tennis: AED 30 (day 1), AED 40 (day 2), AED 50 (day 3), AED 75 (quarter finals day 4), AED 100 (semi finals day 5), AED 150 (finals day 6)

For better seats, there are two options (both are season tickets for both men's and women's tennis tournaments, no daily tickets):
The best seats are Prime A (close enough to catch a drop of tennis player sweat flicked your way if you're lucky), AED 1780 season ticket, email bdtc2009@ddf.ae to buy them.
Prime B are next best, AED 1345 for a season ticket, can only buy from the Dubai Tennis Stadium box office.


Tickets from where?

Tickets on sale from 11 January 2009 at Dubai Tennis Stadium (Garhoud) Ticket Box office, Time Out Tickets tel 800-4669 (toll-free in the UAE). The tennis is popular, tickets will probably be sold out for the final days very quickly, and there are daily limits on how many tickets you can buy.

Organisers?

Dubai Duty Free (DDF)

Main Sponsors?

Dubai Duty Free, and Barclays Bank

Contact tel?

+971-4-3020444

Website?

www.barclaysdubaitennischampionships.com
Anything else?
A 10 January 2009 report from WAM (the Emirates News Agency) said all 10 of the top 10 women would attend, and 6 of the top 10 men. Players attending the 2009 Dubai Tennis Open might include (
Update: see the updated Dubai Tennis player list
)
Car parking is not available at the Dubai Tennis Stadium for 2009 but shuttle buses will be provided by the tennis tournament organisers, free to ticket holders, from the Park n Ride facility on the other side of the Garhood Bridge Road (Casablanca Rd), except on 22 February 2009 (no tournament matches). Shuttle services will start 2 hours before matches begin and continue throughout the day.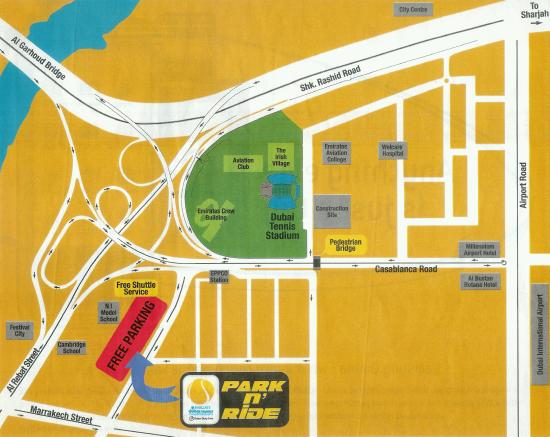 See also:
Legends Rock Dubai
2008 tennis tournament
Dubai Tennis Championships 2008